I had a Lululemon gift card and time to spare.  My mission was to find a cute workout top for my Zumba instructor training.  I wanted something fun and different, but still functional.  I've heard that the class at training is a really high-intensity one!  I settled on the Some Like It Hot tank, which was on sale for $44.  Here it is on a model.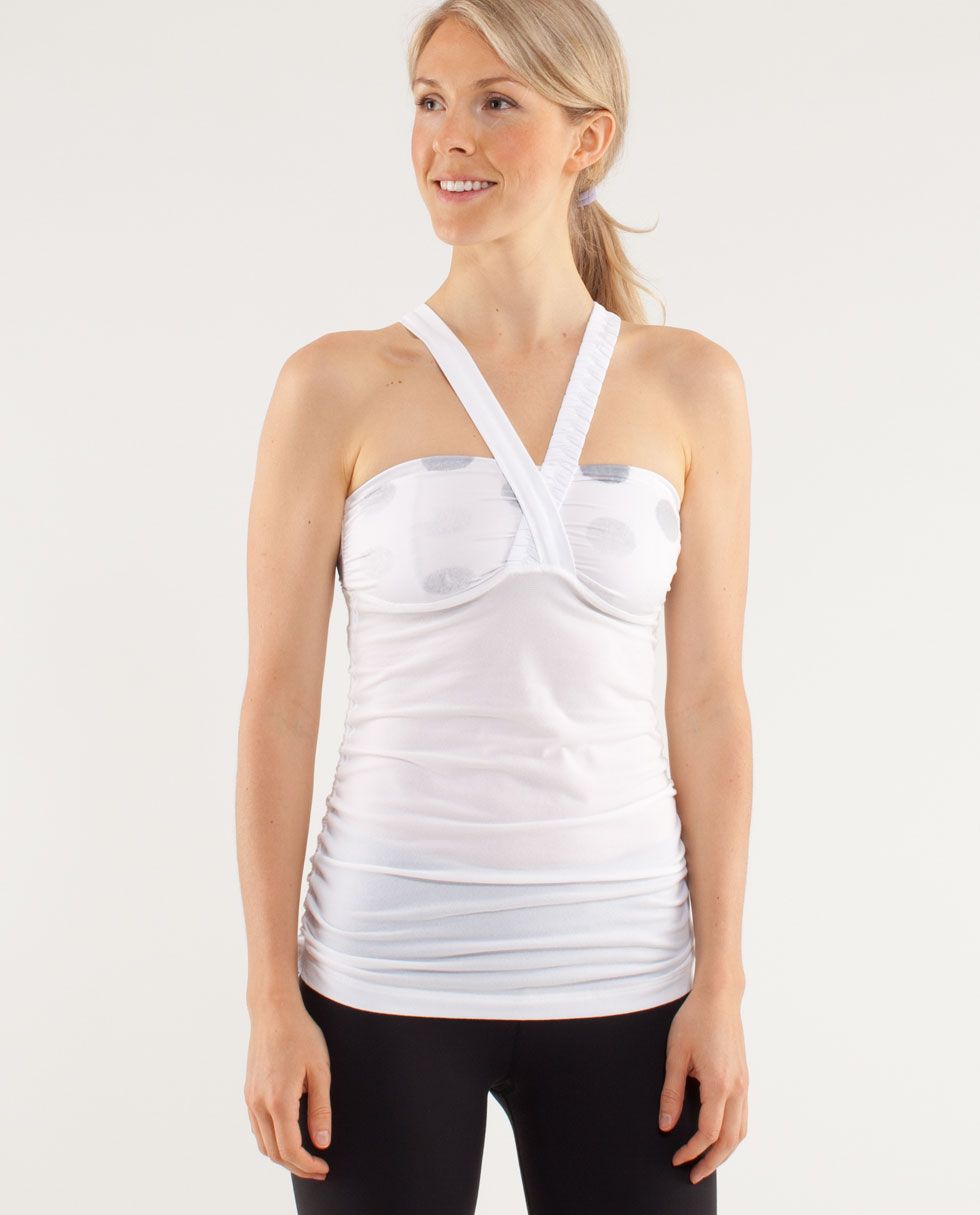 I wonder what she's looking at.  Here it is on me.
I wondered why this tank was on sale, but once I tried it on I realized why.  I tried it on in my usual size but the empire waist was very tight.  I like my workout tops to fit comfortably around my chest, so I ended up buying a top 2 sizes larger than the size I usually buy.  Lululemon messed up, but thankfully the tank fits me well.
A few months ago I won a $50 gift card from Define My Style.  This site has contests where you design your own bag and people vote on their favorites.  I rallied my friends and family to vote for my bag, and I won!  I used my gift card to buy 2 accessory bags, and they arrived today, about 2 weeks after I ordered them.  That's fast when you consider that the bags were be made custom for me!
These accessory bags were bigger than I expected them to be.  I made one in preppy pink and green and the other in Alpha Chi Omega colors.
Each bag came with a black zipper pull, along with 2 zipper pulls in coordinating colors.  Mine each came with white and lime green pulls.
It also came with little business cards featuring my Define My Style username and the name of the bag.  Super cute!
Define My Style has great bags and great customer service.  There are lots of fabrics and bag styles to choose from when you design your own.  Go try it out!
Last but not least, I saw this plastic tumbler at TJ Maxx and I couldn't resist it.  I mean seriously, it has happy swimming whales on it!  I love whales – notice the whale iPhone case in one of the photos above?  It was marked down to $3.99 and it's absolutely adorable.
In other news, I have a new post for Dormify!  As a style advisor I need to write 2 posts per month, so I'm already good for August!  I'll probably write more, though. 😛  This post has some great DIY ideas for decorating with scrapbook paper.
Thanks for reading, loves!
What is your favorite Lululemon item?
Have you ever bought a Define My Style bag?